Completion of XILINX Engineering Lab
Overview:
DCI designed a new engineering lab to accommodate growth in the SERDES Product Engineering group, 4,000 square-feet in total, built in three phases to prevent productivity losses during current-space renovation. Primary project objectives were doubling bench capacity, improvements in wire management, reduced acoustical noise levels, and improvements in Electrostatic Discharge prevention.
The Challenges:
There were several challenges on this project:
Wire Management: Over time, the addition of new equipment began to overwhelm the existing bench designs. Overloaded circuits and tripping breakers was a common occurrence and routing of power and network cables over coolant hoses and Clean Dry Air (CDA) tubing became a serious Health and Safety issue.
DCI introduced a design whereby all utilities were dropped from the ceiling into new benches with integrated wire management features. Power outlets were provisioned by PDUs, also built into the benches for simplified routing. Network outlets, also built into the benches, provided ease of connectivity and each outlet was wired directly to the central switch for security purposes, eliminating a multitude of individual, insecure, switches. Shelves were all ESD laminate for the highest level of protection for the newest generation of 9nm designs.
Acoustical Noise Levels: Noise levels were commonly too high for safe and comfortable working, so much so that the technical staff normally wore headphones in the lab to dampen the noise. The primary noise sources were CDA hissing from un-terminated tubing and air-cooled heat exchangers within the coolant chillers.
Because testing is performed at temperatures below the dew point of the lab, a CDA shroud is used to protect the test fixtures and devices under test from condensation. With proper set-ups, all the CDA tubing is terminated and the noise levels are minimal. However, proper set-up and wind-down of the test sessions were very labor-intensive and hence, not usually done. Ergo, hissing gas tubing all over the lab with detrimental health and safety effects, not to mention the cost of wasting the CDA.
DCI designed a CDA plumbing arrangement for each of the 38 new benches that allowed for a single toggle switch for turning on or off the CDA to the test fixtures. Two setups were allowed per bench as shown below.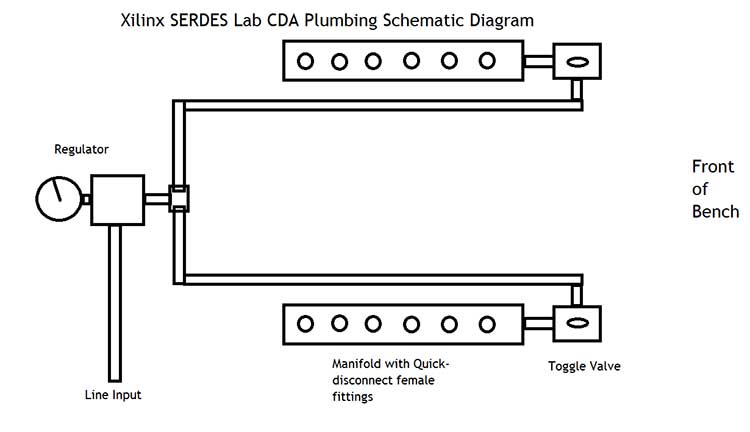 Figure 1: CDA Plumbing Improvements
The other source of noise was the air-cooling fans on the heat exchangers for the individual chillers assigned to the benches. The lab had about a dozen of these chillers, so when the noise (and heat) from the air cooling combined, the result was impressively loud, not to mention the additional load on the HVAC system. To solve this problem, DCI recommended a retrofit to water-cooled heat exchangers and, in the new lab design, chilled water is delivered directly to each chiller. Since the client's facility had an ample capacity for chilled water production, this improvement involved plumbing costs and the chillers were then whisper-quiet.
Additional Deliverables:
Additional deliverables included facility designs and accompanying CAD files, a project move sequencing plan, specifications for new benches and CDA plumbing, utility requirements for Power, Networking, Clean Dry Air, and Chilled Coolant loops for chillers that serviced coolant to test fixtures.
Construction is nearly complete now and additional photos will be added when available.